You can shop clothes, food, furniture & even book train tickets online, but nobody thought that you can buy stationary online. Yes! You read it right, now you can order your kid's school books, stationary inclusive of water bottles, tiffin boxes, school bags, pen, pencil etc.. online on various stationery websites. These stationery websites offer books for graduation, post-graduation & competitive exams as well.
Let's talk about online educational supply portals:
Faststudent.com: It is India's only stationery website that has all educational products & provides all age group students with their daily academic requirements. The co-founders of this portal are Geetanjali Khanna & Gaurav Verma. Faststudent.com is a very strong organization which has very educated individuals involved. These individuals are graduates from premier & valued institutions. The co-founders did a survey & examined that many student's energy was mostly used up in searching for stationery. But now students can shop stationery online without using much energy & your desired products will be delivered at your doorstep.
Crafterscorner.in: Shalini Mittal realized that students require art & craft supplies & all are not available in the market & if they are then you have to go far away for buying so she started Crafterscorner.in & it became successful when students started ordering products. She created this website in 2006 & for her, it is a dream coming true.
Ithinkstore.in: Started by Vikramjeet Singh & Gurpreet Singh in 2012. They both met in a gym & planned to capture the online market with domestic products. This website is sister concern of chessbazar.in i.e. an online portal for unique chess pieces. They wanted to start a portal that is easily accessible in urban areas.
Penandpencil.in: Mehul Shah the founder of Penandpencil.in was earlier a software developer of reliance. He started this stationery shopping websites in 2012 with his childhood friend Abbas Slatewala and now cater to a wide audience. It has tie-ups with FedEx & other courier services.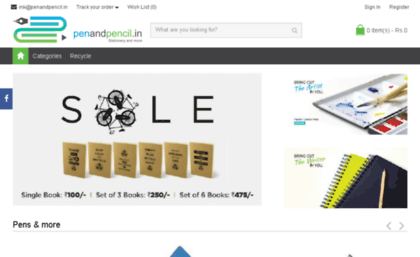 Ezeegio.com: Gaurav Arora who had a business of stationery in Chawribazar. The profit margin was very less for these products so he focuses on B2B more than B2C market. The most popular items that are being ordered through website are Parker Pen & curriculum based textbooks.